The Auroville Archives recently received a large number of large drawings from the office and storage of L'avenir d'Auroville, also known as Auroville Town Development Council, which is the working group tasked with manifesting the township of Auroville. Among these drawings was a tracing of a 1931 map of the area around Pondicherry, which shows the Auroville area as well.
The image above shows only the area of the map around the Auroville plateau. Of course Auroville did not (physically) exist at the time, but the contour of the plateau is clear at the center of the image, as are the villages of Kuilapalayam, Edayanchavadi, Kottakarai, Irumbai, Alankuppam and others. Also shown are the kulams (ponds) and the old roads and tracks across the plateau. It is fun and informative to study this map from 1931, and see how many familiar features of today existed back then as well!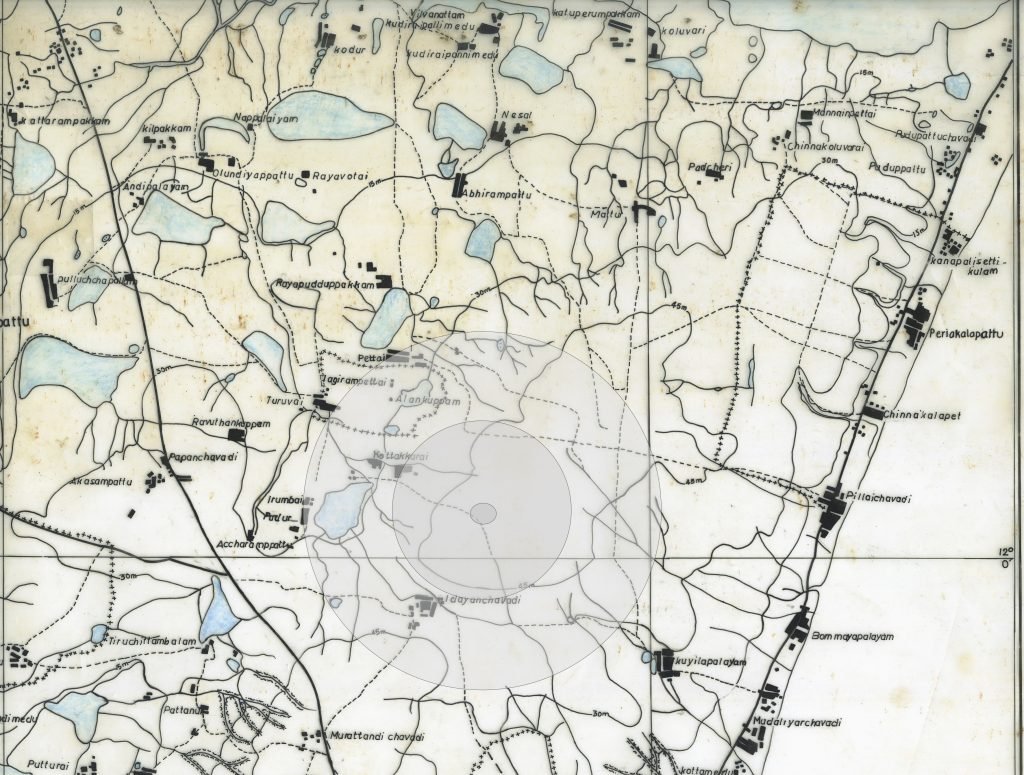 In the image above the rough outline of the Auroville Master Plan area has been shown in grey. From lighter to darker grey (and larger to smaller circles) are Auroville's Green Belt, City Area and Peace Area (Matrimandir and its gardens), all of which together constitute Auroville's Master Plan area. For scale, the City Area has a radius of 1.25km, and the Green Belt has a radius of 2.5km.
This map is from a 1988 tracing of a 1931 map of the area around Pondicherry. The 1988 tracing is copyrighted by the French Institute of Pondicherry.